Veteran's Day PATRIOT Beard Kit
Veteran's Day PATRIOT Beard Kit
Shipping & Returns
We offer free shipping on all orders over $65 Orders under $65 pay a flat rate of $5.95.
All US orders ship within one business day. International orders may take longer.
Returns: We offer 365-day money back guarantee on everything we sell. Contact us at support@livebearded.com with questions.
Customer Reviews
Write a Review
Ask a Question
Love this kit, the hat
Love this kit, the hat is very comfy and the American is one of my favorite scents. Great way to honor those who sacrifice for all of us!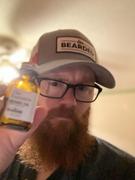 America the Beardiful
As a new beard enthusiast due to medical reasons. My initial thoughts of having a large beard had been poor and the look overall uncomfortable and dirty, almost like a homeless person. Now, I never want to shave it again and I love it. Cheers to all those who truly "Live Bearded"! Now in a long term nursing facility, I am learning that beard oil, balm, etc is vital to the health of my beard. Let alone finding a good comb/brush that doesn't rip the hair out of the skin. I have no monetary gain and cannot afford the products I need to keep this mane living to it's fullest potential. Let's just say I am now truly all by myself. Whether or not I have the products or not, they are always bumped up to my need right now wish list. Still on the learning curve of maintaining a full, rich, and beardiful beard. If you start one, stay on task and don't quit. Live Bearded emails keep me hopeful and encourage new ways to maintain the mane. Thanks all!