"The best bang for the buck to snag the new beard trimmer and reload on my beard grooming must-haves!" - Jose C.
Grooming Beard Kit
"The best bang for the buck to snag the new beard trimmer and reload on my beard grooming must-haves!" - Jose C.
Made In The USA

All-Natural Ingredients

Money-Back Guarantee

365-Day Returns
Grooming Beard Kit Info
Beard Oil Facts
Size: 1oz / 30ml
Natural Ingredients: Argan, Jojoba, Grape Seed, Vitamine E, Natural Fragrance
Suggested Use: Daily
Beard Butter Facts
Size: 3oz / 90ml
Natural Ingredients: Shea Butter, Coconut Oil, Jojoba Oil, Avocado Oil, Almond Oil, Grape-Seed Oil, Vitamin E, Natural Fragrance
Hold: Light/Medium
Suggested Use: Daily
Beard Wash Facts
Size: 8oz / 236ml
Natural Ingredients: Water, Decyl Glucoside, Lauryl Betaine, Myristyl Betaine, Aloe Leaf Juice, Glycerin, Xanthan Gum, Citric Acid, Calcium Gluconate, Sodium Hydroxide, Gluconolactone, Sodium Benzoate, Natural Fragrance
Suggested Use: Daily
Beard Conditioner Facts
Size: 8oz / 30ml
Natural Ingredients: Water, Cetearyl Alcohol, Glycerin, Behentrimonium Methosulfate, Stearamidopropyl Dimethylamine, Coconut Oil, Hemp Seed Oil, Argan Oil, Aloe Vera Leaf Juice, Keratin, Hydrolyzed Keratin, Panthenol, Avocado Oil, Jojoba Seed Oil, Porphyra Umbilicalis Extract, Biotin, Caffeine, Vitamine E, Caesalpinia Spinosa Gum, Polysorbate 60, Citric Acid, Calcium Gluconate, Potassium Sorbate, Phenoxyethanol, Sodium Benzoate, Gluconolactone, Natural Fragrances
Suggested Use: Daily
MT-1 Beard Trimmer
Dopp Kit
Fragrances
1880: Bourbon, Bitters, Citrus
TOMBSTONE: Sweet Tobacco, Cedar
EXECUTIVE: Leather, Vanilla, Cedar
LEGEND: Sandalwood, Vanilla
CANYON: Juniper, Cypress, Fir Needle
AMERICAN: Cedar, Pine, Vetiver, Bergamot
WINGMAN: Citrus, Clove, and Vanilla
STRAIGHT UP: Fragrance-Free
Shipping & Returns
We offer free shipping on all orders over $49. Orders under $49 pay a flat rate of $5.95.
All US orders ship within one business day. International orders may take longer.
Returns: We offer 365-day money back guarantee on everything we sell. Contact us at support@livebearded.com with questions.
Customer Reviews
Write a Review
Ask a Question
Filter Reviews:
products
trimmer
beard
conditioner
guys
scent
stuff
smell
beard butter
quality
Ledgend grooming beard kit
Ok brothers here is my experience with Live Bearded products I have purchased. Starting with the sample pacs I ordered. They were great! Gave me a chance to sample all the fragrances and choose the one I liked most. Which happened to be Ledgend. Next I ordered the Ledgend Grooming Beard Kit. Fabulous Absolutely Fabulous!! The trimmer alone is worth the value of the kit. The beard wash and conditioner are a great start to every morning, and perfect ending to a long day! I could blow smoke all day about how I enjoy your products, However I'm sure you are looking for ways to improve your products. I'm my opinion a dropper for the beard oil would be extremely useful. Thank you for all you do and keep up the excellent work!
09/13/2022
Scott R.

United States
09/13/2022
Taylor H.

United States
Beard kit
Best beard kit/oil I've used. Will definitely be sticking with live beard from now on.
08/23/2022
Jeshaiah G.

United States
08/23/2022
MITCH M.

United States
08/17/2022
Stan N.

United States
Great Products!
I've been using Live Bearded Wash and Conditioner for nearly a year as well as a couple bottles of beard oil. Still exploring the range of scents but my wife hasn't complained at all. The trimmer is top notch!
08/16/2022
DUANE L.

United States
Back Home
Excellent. Perfect scent of the pine, juniper, and sage I grew up in around the Central Oregon Desert.
08/13/2022
Shawn

United States
if you have a beard..
Hey guys, if you have a beard and want instant satisfaction, then wait no longer, Live Beard is your last stop, just got beard wash, conditioner, trimmer, oil and butter and WOW! what a difference a day makes!! these products are amazing and smell GREAT. Thank you, Gentlemen, and LIVE BEARDED!!
08/10/2022
Kenneth E.

United States
Great Combo
I have been using the Gunslinger now Tombstone scents shampoo conditioner oil & beard butter for about 1 1/2 years now and the Live Bearded products are the best I have found. I tried many other beard products before finding yours and they didn't come close to the quality of Live Bearded! The service is great and they don't skimp on the quantity. Haven't used the trimmer yet but it looks to be of great quality and I am anxious to put it to use! Thanks Brothers for your hard work! I am looking forward to the Beard Run/walk in October!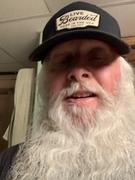 08/03/2022
Benjamin S.

United States
Happy so far
Ya know I hate the reviews that are done the day you get the product, there is no time to truly evaluate anything, so please bear with me, I have had the stuff for only a few days, but this is the second time I have purchased the products. I really like using them the only difference was I purchased a new scent and the trimmers in a kit. So that is what I will evaluate. The Canyon sent is good but it does smell a bit different than the sample, I'm happy to use it, but unsure whether I will purchase it again, I'll try something new again next time. I purchased the trimmers for trimming my beard and for cleaning up around it, I am I little disappointed after adjusting them to the shortest possible cut they still do not cut really close which is what I was looking for. With that said, they were really nice to use I trimmed the wayward hair and my head and the trimmers did a great job cutting right through it all, they are quieter than my other corded trimmers and smaller and easy to handle, so they would be perfect if they cut tighter.