Stop Your Beard Struggle, And Grow Your Best Beard.

Written by Anthony Mink Last updated on Sep 14 2023
Three easy ways to eliminate beard issues, ditch the embarrassing beard, and grow a head-turning beard that makes you feel more confident than ever.
1. Stop Beard Itch & Irritation

1. Stop Beard Itch & Irritation

When growing a beard, its common to experience beard itch and irritation. It's uncomfortable, embarrassing and something a lot of guys struggle with.

As your beard grows, it absorbs the natural oils your skin causing your skin to become dry leading to itch and irritated.

The solution is beard oil. Applying it to the skin beneath your beard moisturizes and improves skin and beard health stopping any itch or irritation. Don't let dry skin hold you back from feeling your best, try our sample pack.

2. Eliminate Beard Dandruff

2. Eliminate Beard Dandruff

Dry skin also causes beard dandruff, which creates the impression of poor hygiene. Having dry skin all over your shirt is super embarrassing, and can be easy to stop.

The simple fix, beard wash and beard oil. Washing your face with a natural beard wash designed for your face exfoliates the dry skin and dandruff and beard oil moisturizes your skin eliminating the dry skin and flakes. Elevate your grooming routine and try our sample pack.

3. Tame Unruly, Coarse, Dry Beards

3. Tame Unruly, Coarse, Dry Beards

Facial hair is thicker and naturally coarse causing it feel rough and be unruly without a good grooming routine. If you have a dry, coarse, or unruly beard and don't like the way it looks, or feels, their is a simple solution.

We recommend using a beard conditioner and beard butter to help condition and moisturize your beard. This will soften coarse hairs, tame those unruly fly aways and make your beard look heathier and feel better. Ready to improve your grooming routine? Try our sample pack today.
Try 24 Different Products For Only $10
Order a Sample Pack and Discover the Perfect Products For You.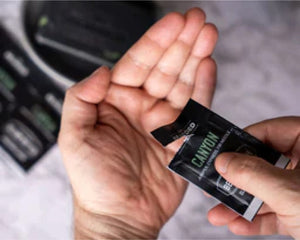 Order a Sample Pack and Discover the Perfect Products For You.
What's Included
Our sample pack includes a single-use serving of our beard oil, butter, wash and conditioner in six great fragrances. Order one today and get $40 in free bonuses.
Scents
1880

Bourbon, Citrus, Bitters

Tombstone

Sweet Tobacco, Cedar

Executive

Leather, Vanilla, Cedar

Legend

Sandalwood & Vanilla

Canyon

Juniper, Cypress, Fir Needle

American

Cedar, Pine, Vetiver, Bergamot
How It Works
Step 1
Buy a sample pack for $10.
Step 2
Discover your favorite fragrances.
Step 3
Receive a $10 credit for your next order.
Free Bonus
Order today and you'll get a free a wood beard comb, a mystery gift and a $10 sample credit.
Bonus Gift
$10 Sample credit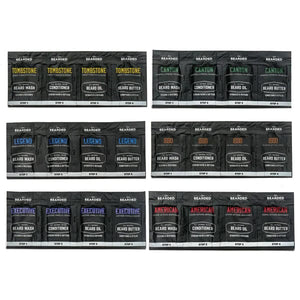 Sample Pack
★★★★★ "This sample pack is genius. It's the perfect way to try all the products and amazing scents." 
- John J.
Made In The USA

All-Natural Ingredients

Money-Back Guarantee

365-Day Returns
Live Bearded vs. Others
Premium All-Natural Ingredients
365-Day Money-Back Returns
Five-Star Rated Customer Service